Torniella is a charming place, quiet and welcoming. There a two or three short streets of modern houses and the remainder of the village is mediaeval and clusters around a quite large castle, now private property, at the highest point. There are several shops, two groceries, two bakeries that both provide excellent desserts, a couple of bars and a pizzeria. In the summer evenings a large part of the population sits outside talking and generally relaxing. The ambiance of Torniella is extremely attractive and the village is highly recommended as a place to stay during a visit to the Alta Maremma.

Torniella is ideally situated for day trips to several famous and interesting localities in southwest Tuscany. The magnificent ruined Cistercian Abbey of San Galgano is located 12 km from Torniella, overlooked by the beautiful Hermitage of Monte Siepi with the famous sword embedded in the rock. Siena is 40 minutes to the north, Grosseto (35 min) and the Maremma natural park (60 mins) are to the south, while Montalcino (60 mins), San Quirico, Pienza and Montepulciano (90 min) lie in a line eastwards. Massa Marittima (35 min) is to the west.

The beaches of Castiglione della Pescaia, Marina di Grosseto, Punta Ala and Follonica are reachable in 40-50 minutes.

Vacation apartments in Torniella, Siena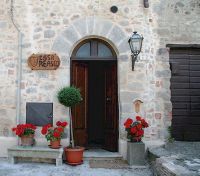 Casa Reasco
comprises two vacation apartments for
4 persons each
or
groups of 12 or more
in the village of Torniella south-west of Siena and
a 30 minute drive from bathing beaches
. Here you can experience authentic Tuscany, as it was forty years ago. It is only 15 minutes drive to the ruined
Abbey of San Galgano
and the nearby
Hermitage of Montesiepi
with the famous sword embedded in stone, and
Grosseto and the Maremma beaches
are just 45-50 minutes away. The apartments of Casa Reasco may be rented together for larger groups and the pricing is highly competitive for these large and comfortable apartments.
Click here for more information about Casa Reasco.